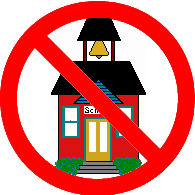 If you're not living under a rock you've heard of homeschooling. And if you're raising kids yourself and looking into your options, you may have heard of unschooling.
Unschooling is based on the idea that children are naturally curious, and if we don't impose a structured curriculum they will seek out things that interest them. With support from their parents, they will learn everything that formal school is supposed to teach, but it will be because they wanted to learn it.
I was ready to hear it
I first read about unschooling while I was trying to decide how I should be eating. I knew that I was overweight, but not so much that I wouldn't be seen in a swimsuit. Assuming I could find one that fit … Hmm, maybe that was a bit of a problem after all.
What really got to me was when my older daughter fell asleep watching TV and I had to carry her upstairs. I realize she's getting bigger, but one flight of stairs carrying a 10-year-old shouldn't leave me that winded. I want to be able to do things with the girls when they're teenagers, and that wasn't going to happen the way things were going.
Along comes unschooling
I read about unschooling and realized that it's supposed to solve the same problems people have with the way most people eat:
There's a set of "conventional wisdom" that we all think we're supposed to follow.
It's designed for everyone — which means it's designed for no one in particular.
And it doesn't work all that well.
Don't get me wrong, lots of kids go to school and get a decent education. The same way people go to residential weight-loss clinics — like on the TV show The Biggest Loser[1] — and they lose weight. It's pretty easy to make some kind of progress when you're stuck there with nothing to do but what you're told.
But what happens back in the "real world"? The kids look forward to time off so they can stop learning — because learning is a chore — and the dieters go right back to the way of eating that put them in the clinics to begin with.
What unschooling aims to do is make learning a natural, enjoyable part of normal life. It's not something you do because you have to, you do it because you want to. You enjoy the learning process itself, and you want things that you can only have by going through the process.
That's exactly what undieting is.
Eating shouldn't be a chore
When you're "on a diet" you're doing something unnatural. You're eating food you don't like, or not eating food you do like. You tell yourself it's only for a while, just until you get down to your target weight. It's work.
It's no wonder diets don't work. And they don't. You wouldn't believe how badly they don't work. (How does 99% failure rate grab you?)
Maybe the biggest problem with dieting is how it makes you look at yourself. When you are always "on a diet", you think of yourself as someone who always "needs to lose weight". It's not something you're doing, it's who you are.
Is that you? Be honest with yourself.

Loading ...
Don't diet … eat
In three years of writing about food, I've come across plenty of people who eat well, clearly like food, aren't constantly hungry, and are in much better shape than the average person. So I looked at how they eat and why, and figured out what all of them have in common. I put all that together and tried it myself and it works.
That's how I started Undieting. And now that I believe in it, it's time to start telling other people about it.
Keep reading
You'll need to sign up for a free guest membership to read the rest of the series as they come out.
---

1) Obviously I am not being paid by The Biggest Loser for mentioning them.