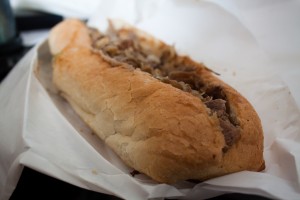 This weekend I'm going to a wedding in New Jersey. Which means I'll be near Philadelphia for a couple of days. That means cheesesteaks. And hoagies. And The Last Stand.
Three meals I need to fit in. And only one day to do it. Hmmm … I have a feeling I'm going to miss my weekly goal by just a little bit.
By the way, I just put up the first article explaining what Undieting is all about. Along with the recipes I'll start posting tomorrow, I'm going to be putting up a series of articles explaining the guidelines I follow, and why they work. You'll need a free guest membership to read the rest of the articles, so click here to sign up now.
UPDATE:
Sally called me out for a hypocrite down below. Well, she was nicer about it, but I am being a hypocrite. Just today I was saying over on Summer Tomato:
Don't eat out (often). And when I do, don't worry about eating healthy. As long as I'm only eating out once a week or less, it's a complete non-issue.
Thirty-plus years of anti-food messages are hard to shake. Thanks for the reminder.