Want to just try it out, see where things take us? I'm cool with that. Some people just weren't made for each other.
Or are you looking for a long-term thing? Yeah, it's nice knowing that you're still going to be around this time next year. That can be good, too.
Monthly
Join the crew on a month-to-month basis for $14.95 / month.
Private forum.
Get answers to your specific questions.
Get weekly checkups and encouragement.
Special offers and freebies by email.
Annual
Join for a year and get two months free — $149.50 for the whole year.
Set a target and track your progress.
Figure out what works best for you … so you can do more of that.
Dont' forget, that's 3 months to make up your mind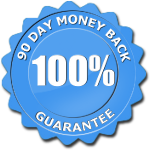 If for any reason you decide it's not for you, you've got 90 days to say so and I'll give you a full refund. No questions asked.
No, wait … I will ask why you want to leave, but not so I can pressure you to stay. You'll get the refund no matter what, but if things don't work out I'd like to know how to make things better for next time.