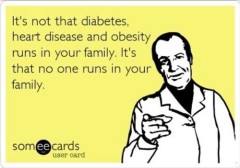 Have you ever seen a family at a football game, all in matching outfits, faces painted in team colors? Isn't it a coincidence that the kids all just happen to like the same team as their parents? (I could have gone with religion for this, but that would be poking a hornets nest … oops.)
Even the most rebellious kid soaks up most of their worldview from their parents. Like maybe they'll switch team loyalties when they move away, but they'll still watch football.
The tricky thing is how much of this you don't even know is happening. For instance, which of these is you?
It's not whether you win or lose, it's how you play the game. – Grantland Rice
Winning isn't everything, it's the only thing. – Red Sanders
Winning is only half of it. Having fun is the other half. – Bum Phillips
If winning isn't everything, why do they keep score? – Vince Lombardi
The score never interested me, only the game. – Mae West
There are parts of your life you live like Red Sanders, and other parts like Mae West. But unless you've been in therapy for years to figure yourself out, chances are there's no rhyme or reason other than that's how you've always done it. And guess where that probably came from.
Right, it's your parents' fault
Deciding you want to root for a new team is easy. Realizing the reason you hate exercise is because you can't stand competitiveness … yeah, that's a little harder.
But here's the thing. You might have developed your current hang-ups the old-fashioned way; you learned them from your parents. But part of growing up is taking responsibility for your own decisions.
If you've thought about it and you really believe taking care of yourself isn't worth the hassle, whatever … you be you. Just don't inherit that view from someone else because it was too much trouble to think for yourself.