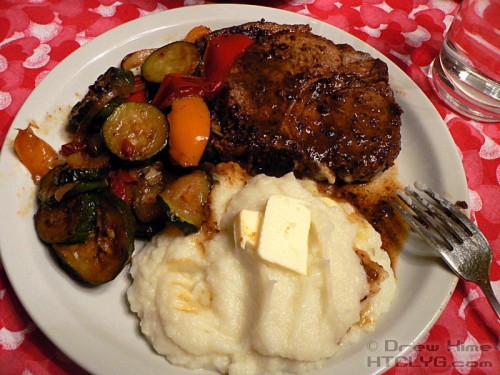 "Don't you get tired of always being on a diet?"
Okay, first: I'm not on a diet. School kids don't stay up late on school nights. Grown-ups don't get drunk during the week. I don't eat carbs until the weekend. That's not "on a diet", that's how I eat.
Second — and here's the important part — that picture up there is what a typical dinner looks like for me. Pork chop with pan sauce, roasted mixed vegetables, and mashed steamed cauliflower.
Yeah, cauliflower. Bet you thought that was mashed potatoes in the picture. And if I served it to you without telling you what it was, you'd have thought the same thing.
So you tell me … Would you get tired of eating like that?

UPDATE!
Okay, so a couple people asked me how to make that awesome looking dish up there. Well here you go. (I'll do step-by-step photo tutorials if enough people ask for them.)
Roasted vegetables
Chop a selection of veggies slightly bigger than bite-sized. Toss them with a little olive oil, salt and pepper. Put in one layer on a baking sheet. Roast in the oven at 450° until lightly browned but not mushy. Toss once or twice along the way, but not absolutely necessary.
Or if you're in a hurry, put them under the broiler for a minute or two per side. Much faster, but you have to keep an eye on them … they'll be done abruptly.
Pork chop with pan sauce
Melt some bacon fat in a skillet over medium heat. Fry the chop until lightly browned on each side. (Use a thin chop and it's done when it's browned on the outside. With a thick chop, keep the heat lower and put a tight-fitting lid on while cooking.) Remove to a plate and cover with foil while you do the sauce.
Deglaze the pan with a quarter-cup of white wine over high heat and scrape up all the brown bits. When the wine starts bubbling, remove from heat and add a quarter-cup of cream. Stir quickly, adjust salt and pepper as needed. Stir in a tablespoon of butter just before pouring over the chops.
Steamed mashed cauliflower
Cut the head into one-inch pieces. Steam until fork-tender. (Or put it in a casserole with a little water and microwave for a few minutes. It's not cheating.) Drain well. Toss in a food processor with a few tablespoons of butter and some salt. Process until smooth.